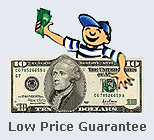 Our Hedstrom trampoline safety pads are the same or very similar to the safety pads that were originally sold with your Hedstrom or NBF trampoline. Our other range of trampoline pads includes Ultra, Premium, and Basic models. We supply trampoline safety pads in various shapes such as Round, Rectangle/Square and Octagon. Hedstrom trampoline pads are recommended only for our most cost conscious customers and are available only for Hedstrom and NBF trampolines. These safety pads are 11-inches wide and cover the trampoline frame with one inch of foam. These pads are covered with a 100-gram polyethylene shell.

If you are not sure whether your trampoline is a Hedstrom or NBF trampoline, there is a simple way to find it out. Simply, examine your trampoline mat's perimeter (the mat is the black jumping surface). You own one of these brands if grommets or eyelets are found along the mat's perimeter attaching the trampoline mat to the springs.

We also supply Trampoline enclosure parts manufactured by Hedstrom to fit their enclosures. However, with minor adjustments these enclosures will work with trampolines manufactured by other brands.


Our Enclosure Pole Caps and Enclosure Net Bungees are recommended for Hedstrom trampoline enclosures and Hedstrom or NBF trampolines respectively. The pole caps are made of black plastic and fit snuggly a top enclosure poles. The Enclosure Net Bungees are used to attach the top of the enclosure net to the support poles.

Note: Please note that the Hedstrom trampoline pads and pad shells arecompatible only with Hedstrom and NBF trampolines.For more information on Hedstrom Trampolines you can contact one of our customer service representatives at 1-800-586-7456, 1-706-376-8792. or click here to send in your query.