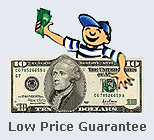 At Trampoline Pro Shop, we supply various trampoline enclosure accessories such as Enclosure replacement nets, Enclosure pole foam sleeve, and Enclosure net & clip bungee. These Enclosures differ according to their sizes, type of safety provided and other uses such as protection from elements etc. Regardless - Jumping on a trampoline is fun for kids but there is risk of injury involved. Jumping can be a lot of fun only if adequate levels of safety measures are taken such as ? the use of trampoline enclosure to prevent falling from trampoline pad.


| | | | | |
| --- | --- | --- | --- | --- |
| Replacement Net | | Pole Foam Sleeve | | Net and Clip Bungees |
| | | | | |
| | | | | |

Trampoline enclosures come with safety net with enclosure poles. They are circular in shape placed around the trampoline and prevent the jumper from falling off thus making it safe. Our Enclosure Pole Foam Sleeves are made of mildew-resistant, high-density foam. These sleeves are 36 inches long, 1/2 inch thick, with an inside diameter of 1.5 inches. Our enclosure nets are offered in sizes such as - 14 foot trampoline enclosure net, 13 foot trampoline enclosure net and 12 foot trampoline enclosure net.

The trampoline enclosure is sometimes also referred to as safety net / fun ring. The nets are woven from UV-resistant and durable polypropylene and are lined with elastic along the perimeter to ensure a snug fit providing total safety for kids and adults. Our enclosure replacement parts are compatible with most of the major brands of trampoline like Trampoline Pro Shop, JumpKing, Hedstrom, NBF, Sky Bouncer, Bazoongi, Jump Pro, Air Zone, Variflex and others.

It is imperative to know the size and shape of your trampoline while ordering for a trampoline enclosure or its accessories. It is also important that the enclosure you buy should be a good fit for your trampoline to ensure maximum safety of jumpers.