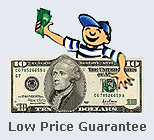 Trampoline Pro Shop is a leading supplier of trampolines, trampoline pads, trampoline mats, trampoline springs, trampoline weather covers, and other trampoline parts and accessories. Our range of Trampoline safety pads include all different types of pads suited for the most economical buyer to our quality conscious buyers. The range of trampoline safety pads ranges over Ultra, Premium, Basic and Hedstrom Pads.

Our trampoline safety pads are made of high density, closed-cell foam that will absorb shocks, not water and will resist mildew and loss of shape. Backed up by low price guarantee, you could be certain that the safety, durability and value of these pads are the industry benchmark. All of our pads exceed ASTM standards.
We offer trampoline safety pads in all three shapes – Round, Rectangular/Square and Octagonal.
| | |
| --- | --- |
| Rectangular Pads | Octagonal Pads |
| | |
| | |

Trampoline Safety pads are available in various shapes and sizes as per the users demand. They are all covered by some sort of PVC covering to protect from UV rays. Almost all trampolines come with safety pads. Though, over a period of time they wear out and demand replacement - so when you shop for replacement pads don't go for price alone instead look for safety features so that you and your family is protected from any harm. Our trampoline safety pads cover the trampoline frame and springs with a 1-inch wide plank of thick closed cell foam which overlaps the edge of the trampoline mat. We offer a range of frame pads to suit every budget even though there is no compromise on quality.


Some of the special features of our trampoline frame pads are:
Our trampoline safety pads contain the best quality highest density, shock absorbent, closed-cell foam which does not absorb water or lose shape.


As an added protection our frame pads contain anywhere between 8 to 24 sets of straps to attach to the trampoline to hold it in place while jumping and during high winds.
At Trampoline Pro Shop, we consider your family's safety as our topmost priority. Our new range of ultra pads is a "must see" addition to the existing pads portfolio. When buying a new trampoline pad, make sure that you have the exact measurements of the old one, as well as the number of grommets or tabs that are used to attach it to the frame. Our round trampoline safety pads are compatible with JumpKing, Hedstrom, NBF, Sky Bouncer, Bazoongi, Jump Pro, Bollinger and all other trampoline brands.