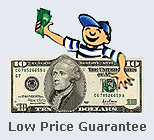 Trampoline activities can be a lot of fun for the family and a good form of exercise if accompanied with adequate levels of safety measures and some recommended accessories. Several types of trampoline accessories and its parts are available in the market based on shape, sizes and type of security they provide. We offer a wide range of trampoline parts for our customers to enable them pick up the right accessory for their unique needs. The requirement for a trampoline accessory varies from customer to customer. We have products suiting to changing needs of trampoline owners. Our trampoline accessory products are made to last and provide optimum use. These accessories are compatible with most of the popular brands of trampoline such as Trampoline Pro Shop, Hedstrom, Jumpking etc. A few of our trampoline accessory items are listed below.


Anchor Kit
Trampoline Ladder
Trampoline Cover


Trampoline Cover:
The most important accessory for adding life and protecting your trampoline against unfavorable weather conditions is the Trampoline weather cover. To prevent your trampoline - specially the jumping mat from getting tarnished or discolored from unfavorable weather conditions like UV rays, rain, snow, dew, falling twigs the use trampoline cover is highly recommended. By using the trampoline cover you can even discourage the neighbor?s kids to hop on to your trampoline when you are away or from unsupervised jump making it a ?must have? accessory.

Ladders:
Ladders make it easier to get onto the trampoline. For kids, a trampoline ladder helps avoiding accidents when getting on and off the trampoline. In the event of absence of any adult supervision, remove the ladder to some safer place so as to avoid the kids to get on to the trampoline unsupervised.


Ordering an accessory is easy. Just visit our online store at https://www.trampolineproshop.com/trampoline-accessories.php or call us at 1-800-586-7456, 1-706-376-8792 to speak to one of our customer service representatives.