Please Note:

If you are purchasing all new springs for your trampoline, you will need to order by using frame measurements.

If your old trampoline mat has a hole over 4-inches long, please do not use this instruction set. Instead, please measure your frame and springs. If the mat has a small hole, do not measure across it.

When collecting #1 and #2 measurements below be sure to follow the 'grain' of your fabric. To find the grain, look closely at the fabric to notice the yarn runs in two directions - from 12-o'clock to 6-o'clock and also from 9-o'clock to 3-o'clock.

Measure in both directions following the middle of the grain.

Measure with the grain even if the metal hardware along the edge of your mat is missing in line with the grain. If metal hardware is missing, add the appropriate distance to your measurement to account for the missing hardware.

Mat can be measured while assembled or while laying on a flat surface. If measured off the trampoline, pull the mat flat while measuring.





We offer the industry's most unique mats with user defined distinctive color options. Our Trampoline mats derive their strength from our core competency of in-house weaving.

Our trampoline mats are super-strong with burst strengths of 800-pounds per square inch and are sewn with 8-rows of heavy-duty UV-resistant thread and use galvanized triangular v-rings for long life.

For further enhancements we offer a variety of mat upgrades such as Performance weave, Sun Shield etc.

For color options you can select from our range of Blue Black, 4-Check, Jet Black Fabric etc.


Measuring Tips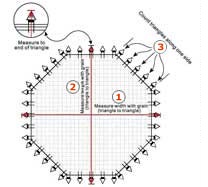 Customer Testimonials
Extremely fast shipping, and no extra shipping
more.. Curt Palmer

I live in Canada and was very pleased on how quick
more.. Scott S

You promptly got my order to me on a very tight
more.. Fran