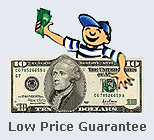 Enclose Your Fun With Safety
---
By David Jones

A trampoline enclosure is none other than a net that is placed around the trampoline. That way, if someone makes an incorrect jump, he will bounce against the net instead of falling to the ground.

A trampoline is a device that almost everyone enjoys, since they provide tons of fun and can be an excellent toy and exercise machine. Unfortunately, falling from a trampoline is no fun. You may cause serious harm to yourself, or even worse, your children could be the ones affected. So, is there some way to protect yourself and your loved ones from these potential accidents? Yes, a trampoline enclosure is the solution for you.

Our Trampoline Enclosure Parts were manufactured by Hedstrom to fit their enclosures. However, we are confident that, with a bit of adjustment, most of these parts will work with trampolines manufactured by other brands.

Available Trampoline Enclosure Parts are as follows:


Trampoline Enclosure Replacement Net

The Hedstrom trampoline enclosure replacement nets are designed to fit Hedstrom enclosures perfectly, but these nets can fit any brand of enclosure with various adjustments. The nets are woven from UV-resistant and durable polypropylene and are lined with elastic along the perimeter to ensure a snug fit.
Sizes: These nets are available for 16-ft, 15-ft, 14-ft, 13-ft, and 12-ft round trampolines.

Trampoline Enclosure Pole Foam Sleeves

Enclosure Pole Foam Sleeves are made of mildew-resistant, high-density foam. These sleeves are 44 inches long, 1/2 inch thick, with an inside diameter of 1.5 inches. Please measure your enclosure poles carefully to ensure that you order the correct number of sleeves. These foam sleeves are easily cut to fit any length of enclosure support pole making them useful for many different enclosure brands. Colors: Blue, Black & Yellow.

Trampoline Enclosure Net Bungees

Enclosure Net Bungees are recommended for use only with Hedstrom or NBF trampolines. They are used to attach the top of the enclosure net to the support poles. Sold in sets of 8.