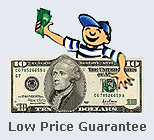 Make Your Fun Delicious, Be Trampolicious
---
By David Jones

Trampolines are surely for those who love having fun in their backyards but can be termed as a great exercise tool for individuals who would love to be in shape. Trampoline exercises help you shed extra body fat and keep you in good shape. A few minutes spent on your trampoline make you feel invigorated and enthusiastic to face your day with new zeal! A fit and healthy body has an enormous effect on the way we feel and trampoline exercises can work magic on your psychological well-being.

If you want an individual workout, you can get a mini trampoline that you can jump on indoors to get the same effects of better health, well toned body and obviously the fun.

Over the years Trampoline rebounding has gained more and more popularity as jumping up and down on a trampoline utilizes the forces of gravity, acceleration and deceleration to revitalize all the body cells thereby letting you enjoy both fun and fitness. Bouncing over trampolines is now a days not only popular in kids but also with people who are crazy about building strength, stamina, confidence, increase co-ordination etc..

Trampoline bouncing can be a great family activity to enjoy your wonderful weekends with your loved ones. Backyard trampolining can certainly be a lot more enjoyable and healthy activity for children if parents establish the rules enforces them and takes the necessary precautions to ensure safety and maintaining the spirit of having fun.

For a quick inside into a few handy tips for safe trampolining, please refer below:

- Jumping must be supervised by professional spotters or people with enough experience;

- Somersaults should only be allowed with permission and supervision;

- Jewelry or Articles that may catch on equipment are prohibited;

- Special trampolining footwear may be required to ensure proper bouncing.

Responding to an ever increasing demand for quality, safe, good value trampolines, we at Trampoline Pro Shop with our rich, accumulative, unrivalled experience in sale of trampolines bring you trampolines and trampoline parts which set the industry benchmark in quality. Besides, we offer a convenient online shop for an altogether better experience. For any further information that you may require call us at 1-800-586-7456 or 706-376-8792.