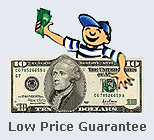 Trampoline Parts Manufacturer and Supplier
---
By David Jones

Do you need to replace some parts on your trampoline? One of the first factors you should consider when searching for replacement trampoline parts is the reliability of the company you choose to order from. Trampoline owners are always encouraged to contact the trampoline parts company directly, by phone or email, with any questions. An informed staff is one of the first signs of a reliable trampoline company. Beware of companies who do not answer phone calls or return messages in a timely matter, as this is usually a sign of an unreliable company.

Dependable trampoline parts providers can be identified through good customer reviews, informative websites, easy to use order forms, competitive pricing and warranties, and a well trained staff. All of these factors should be reviewed when purchasing replacement trampoline equipment. Some suppliers are even willing to match the prices of other competitors, but you must call or email the company for more information on those specials.

While it is obvious that you should search for the best prices available for the product you need it is important not to focus so much on the price that you overlook the quality of the product. The warranty available with the product is usually a good clue to the quality of the product. Generally manufacturers who have strong faith in their product will provide a lengthy warranty with the item to prove that they stand behind the quality of their product.

The way of choosing right trampoline parts is little different according to products such as when buying trampoline mats right measurement and fabric quality matters a lot. Trampoline springs are measured with length according to trampoline size. The common things you should consider are product cost, material, quality and warranty.

The number one suggestion by trampoline industry experts is to always contact the company directly if you have any questions or concerns about the trampoline equipment you need.